Mt. Rogers Area Christmas Tree Growers Association
Members Only Info Page
Member Farm Directory 2017
Click here to open the new Directory, which lists all our member farms and their inventory for the 2017 tree season.
Note: if you have yet sent in your inventory list, or find that yours is not listed, please email Betty.
---
MRCTGA Membership Meeting
Sept , 2017
in Whitetop, VA
at the Community Club building behind the bank
Board meeting 1pm
Membership meeting 2pm

Gypsy Moths have been found in Grayson County and we may be made a part of a quarantine in the near future.  This means that growers may not be able to sell their trees without certification of Gypsy Moth Free trees.  However, with a short training session (1 hour and 45 minutes) a grower will be able to certify their own trees. 

---
New Seed Orchard needs your help!
The Association needs your help in improving the quality of the trees produced from our Orchard seed. You can help by identifying out-standing Mount Rogers seed source Fraser fir trees on your farm and donating a graft of that tree.
Please click here for a pdf file of the informative brochure.
Please click here for more information.
---
Virginia Leaders Welcome National Christmas Tree Association!

Winston-Salem, NC, August 11-14, 2010. The MRCTGA and the VCTGA partnered to offer a great lineup of special events to promote Virginia's trees and our local growers of Fraser Fir.

For more details and some photos,
please CLICK HERE!
The Independence, VA newspaper, the "Declaration" has also picked up this story. You can see it online at:
Declaration Article
It's on Page 9 of the 9/15/2010 issue.
Mount Rogers Fraser Fir Seed Orchard,
An Example of the
Virginia Department of Forestry Collaboration!
          On Sunday, June 26, 2011, a new, second generation, Mount Rogers Fraser Fir Seed Orchard was celebrated as a partnership with the Virginia Department of Forestry and the Mount Rogers Christmas Tree Growers Assoc., Inc.
          The Virginia Commonwealth State Forester, Carl Garrison, III, shared the vision of the collaboration and partnership for a seed orchard as a way to preserve the superior characteristics of the Mount Rogers Fraser fir for many generations of Christmas tree farmers and their customers in the future.  The Mount Rogers Fraser fir Christmas trees are an economic engine for Grayson County, Virginia, surrounding counties, and the entire Commonwealth.
          The Virginia Department of Forestry initiated a land exchange with the Virginia Department of Conservation & Recreation, which lead to the establishment of the "Old Flat State Forest" and the new Mount Rogers Fraser Fir Seed Orchard.  The land exchange was a four year process which was approved by the unanimous consent of the Virginia State Legislature and signed by the Governor.  Preserving the native Mount Rogers Fraser fir for its unique gene pool will have long lasting environmental significance, which is important to the Department of Forestry's vision.
          John Rosser, President of the Mount Rogers Christmas Tree Growers Assoc., Inc., expressed to Mr. Garrison, on behalf of the tree farmers, "our appreciation and gratitude for all of the support which we have received from the Virginia Department of Forestry!"
---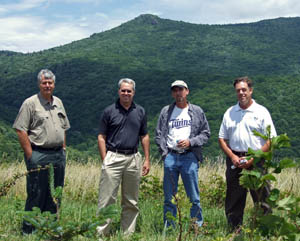 ---
Tree Finder Listing:
note: the web-based listings are being updated ASAP! If you have any changes to your contact information or farm status, please EMAIL BETTY directly.
Your listing will be deleted if your dues are not paid up for 2012.
Each member is entitled to a free listing on our "Tree Finder" pages. To submit the information for your farm, please download the two files below.
Choose the best format for you:
WORD docs:
Website Listing Form Instructions
Website Listing Form
PDF files:
Website Listing Form Instructions
Website Listing Form
Please read the instructions.
Either format should be editable in your software, and then be saved and emailed back to Betty.
If not, the file can be printed, filled out, and then mailed to Betty.
PDF- If it opens within your web browser you will probably need to save it, then open it with your Acrobat PDF software, in order to edit it.
---