Mt. Rogers Fraser Fir Seed Orchard
Preserving America's Premium Christmas Tree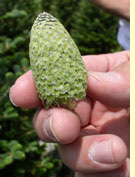 The Mount Rogers Christmas Tree Growers Association maintains a Fraser fir seed orchard of approximately 1200 selected trees.  The seed orchard is located in the higher elevations of Grayson County Virginia in the beautiful Grayson Highlands State Park.  All of the seed orchard trees are of the Mount Rogers strain of Fraser fir. 

In addition to being a preserve of the Mount Rogers strain of Fraser fir, seeds are made available to the area Christmas tree farms.  Due to the cyclic nature of Fraser fir producing cones, cones are harvested on average every third year.  The cones are then dried; the seed is extracted and placed in long term storage.  Seed is usually offered for sale each year in January.  The price is based on market conditions and germination percentage.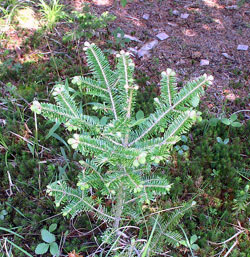 Getting Started
The first 200 trees were planted in the seed orchard in 1980 as a result of concerns over the dwindling natural stands of Fraser fir.  The native trees were dying due to the introduced insect the balsam wooly adelgid.

Planting trees in an area where they could be managed, and the harmful insects controlled, was viewed by many as the only way to preserve the gene pool and to have a sustainable supply of seed. 
In 1981 four-hundred trees were added to the seed orchard from the Cabin Ridge section of Mount Rodgers National Recreational Area.  Selected trees have been added several additional times.  The natural stands of Fraser fir continue to decline and seed orchards are becoming the major source of seed for the Fraser fir Christmas tree industry.

Mature trees in the Fraser Fir Seed Orchard

In addition to concerned area citizens, MRCTGA, Virginia Christmas Tree Growers' Association, U.S. Forest Service, Virginia Cooperative Extension Service, Tennessee Valley Authority, Virginia Department of Parks and Recreation, Virginia Department of Forestry and others have been instrumental in the development and management of the seed orchard.